Jupyter Notebook¶
The Jupyter Notebook is an interactive computing environment that enables users to author notebook documents that include:
Live code

Interactive widgets

Plots

Narrative text

Equations

Images

Video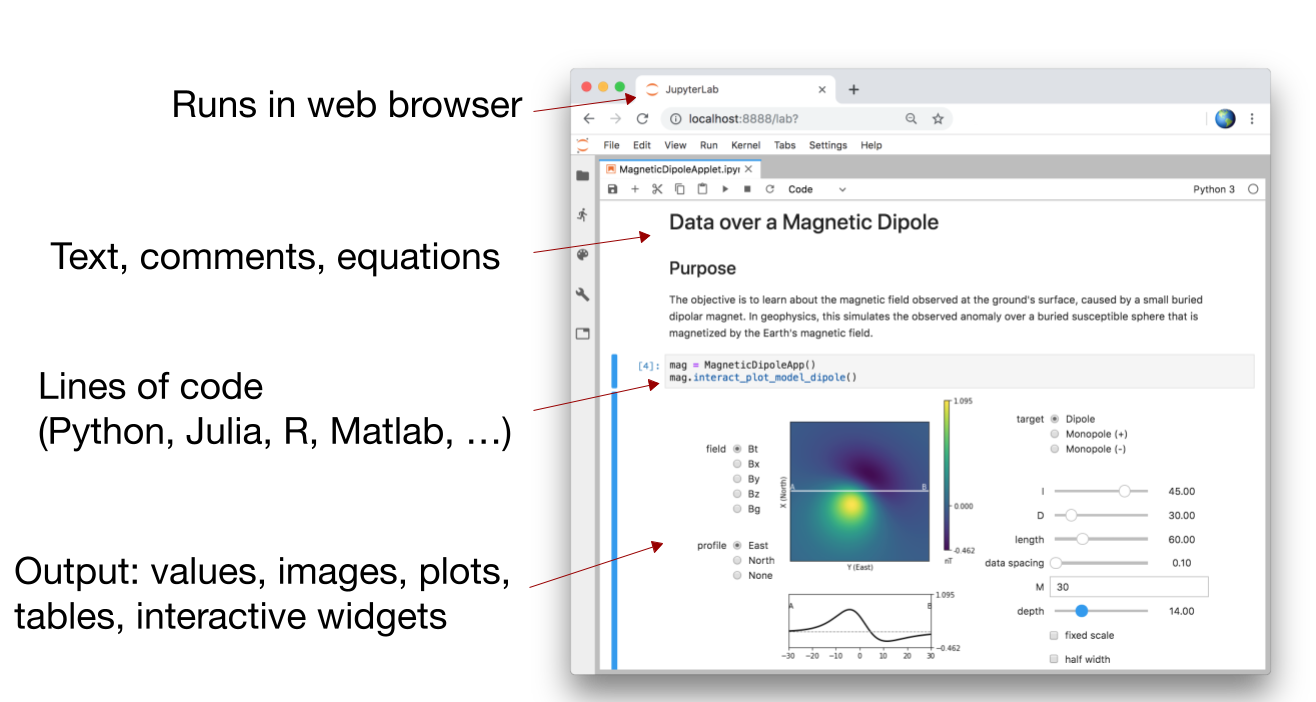 These documents provide a complete and self-contained record of a computation that can be converted to various formats and shared with others using email, Dropbox, version control systems (like git/GitHub) or nbviewer.ipython.org.
Additional resources
This material is adapted from the ICESat2 Hackweek intro-jupyter-git session by @fperez.
Components¶
The Jupyter Notebook combines three components:
The notebook web application

Kernels

Notebook documents
Notebook web application¶
The notebook web application enables users to:
Edit code in the browser, with automatic syntax highlighting, indentation, and tab completion/introspection.

Run code from the browser, with the results of computations attached to the code which generated them.

See the results of computations with rich media representations, such as HTML, LaTeX, PNG, SVG, PDF, etc.

Create and use interactive JavaScript wigets, which bind interactive user interface controls and visualizations to reactive kernel side computations.

Author narrative text using the Markdown markup language.

Build hierarchical documents that are organized into sections with different levels of headings.

Include mathematical equations using LaTeX syntax in Markdown, which are rendered in-browser by MathJax.
Kernels¶
Simply put, the kernel is the engine that runs the code. Each kernel is capable of running code in a single programming language and there are kernels available in over 100 programming languages.
IPython is the default kernel, it runs Python code.
Notebook documents¶
Notebook documents contain the inputs and outputs of an interactive session as well as narrative text that accompanies the code but is not meant for execution. Rich output generated by running code, including HTML, images, video, and plots, is embeddeed in the notebook, which makes it a complete and self-contained record of a computation.
When you run the notebook web application on your computer, notebook documents are just files on your local filesystem with a .ipynb extension. This allows you to use familiar workflows for organizing your notebooks into folders and sharing them with others using email, Dropbox and version control systems.
Notebooks consist of a linear sequence of cells. There are three basic cell types:
Code cells: Input and output of live code that is run in the kernel

Markdown cells: Narrative text with embedded LaTeX equations

Raw cells: Unformatted text that is included, without modification, when notebooks are converted to different formats using nbconvert
Notebooks can be exported to different static formats including HTML, reStructeredText, LaTeX, PDF, and slide shows using Jupyter's nbconvert utility.
Furthermore, any notebook document available from a public URL on or GitHub can be shared via http://nbviewer.jupyter.org. This service loads the notebook document from the URL and renders it as a static web page. The resulting web page may thus be shared with others without their needing to install Jupyter.
Body¶
The body of a notebook is composed of cells. Each cell contains either markdown, code input, code output, or raw text. Cells can be included in any order and edited at-will, allowing for a large ammount of flexibility for constructing a narrative.
Markdown cells - These are used to build a nicely formatted narrative around the code in the document. The majority of this lesson is composed of markdown cells.

Code cells - These are used to define the computational code in the document. They come in two forms: the input cell where the user types the code to be executed, and the output cell which is the representation of the executed code. Depending on the code, this representation may be a simple scalar value, or something more complex like a plot or an interactive widget.

Raw cells - These are used when text needs to be included in raw form, without execution or transformation.
print

(

"I'm a code cell!"

)



Modality¶
The notebook user interface is modal. This means that the keyboard behaves differently depending upon the current mode of the notebook. A notebook has two modes: edit and command.
Edit mode is indicated by a blue cell border and a prompt showing in the editor area. When a cell is in edit mode, you can type into the cell, like a normal text editor.

Command mode is indicated by a grey cell background. When in command mode, the structure of the notebook can be modified as a whole, but the text in individual cells cannot be changed. Most importantly, the keyboard is mapped to a set of shortcuts for efficiently performing notebook and cell actions. For example, pressing c when in command mode, will copy the current cell; no modifier is needed.

Enter edit mode by pressing Enter or using the mouse to click on a cell's editor area.
Enter command mode by pressing Esc or using the mouse to click outside a cell's editor area.
Do not attempt to type into a cell when in command mode; unexpected things will happen!
Running Code¶
First and foremost, the Jupyter Notebook is an interactive environment for writing and running code. Jupyter is capable of running code in a wide range of languages. However, this notebook, and the default kernel in Jupyter, runs Python code.
---
Markdown Cells¶
Text can be added to IPython Notebooks using Markdown cells. Markdown is a popular markup language that is a superset of HTML. Its specification can be found here:
http://daringfireball.net/projects/markdown/
You can view the source of a cell by double clicking on it, or while the cell is selected in command mode, press Enter to edit it. One A cell has been editted, use Shift-Enter to re-render it.
---
---